CSBAGILE
-
Agile Project Management
20531746
Course Description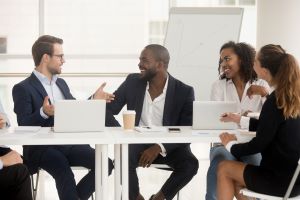 The Agile Certified Practitioner (ACP) is one of the newest certifications offered by PMI and is expected to become the industry standard certification for Agile over the next few years. In addition to preparing you for the exam, this Agile Project Management course is designed to teach you the principles and practices of Agile in real-world settings, including Scrum, XP and Lean.
An Agile approach has been or is being used in 46% of surveyed organizations over the last 12 months. (Pulse of the Profession.) Significant numbers of development and IT professionals describe their company as pure Agile and 51% are leaning toward Agile. (Agile is the New Normal, Hewlett Packard Enterprise). Agile is the future of project management. Many companies are adopting Agile methodologies to increase team performance and improve customer satisfaction.
Don't let this opportunity pass you by, register today!
Discounts:
UAB employee/student, veteran or company with 3 or more students in the same class. Use discount code: AGILEUAB to save $100
Early Bird Registration: 20% discount if you register at least 30 days before the first day of class. (Use discount code EARLYBIRD20)
Early Bird for UAB, Vet, 3+ Company: Discount price PLUS 20% discounts if you register 30 days before first class: use discount code EARLYBLAZERA and have your ID for the first class. Discounts can stack.
Deadline: Enrollment is open until 7 days prior to the first day of class OR until the class is full. Most classes fill prior to the close date. If it is within the 7-day window, contact the Collat School of Business to check availability.
Course Outline
1. Agile Principles and Mindset
Why use Agile
The Agile Manifesto
Agile Methodologies
2. Value Driven Delivery
What is value driven delivery
How do you assess and prioritize value
MVP
3. Leadership and team performance
Agile Leadership
How to build an Agile team
4. Adaptive Planning
Agile Planning
Sizing and Estimating
Release Planning
Iteration Planning
5. Continuous Improvement
Methodologies for continuous improvement
Process, product and people
6. Stakeholder Engagement
Who is a stakeholder?
How to establish a shared vision
How to communicate with a stakeholder
Critical communication skills
Scholarships
Upskilling Scholarship: Apply online here
Notes
Who Should Attend?
Anyone who works on an Agile team or is a part of an organization adopting Agile practices. Anyone experienced using Agile approaches, has good collaboration skills, eagerly embraces complexity, and thrives on rapid response times is invited to come learn about real-world Agile Project Management and earn the education hours required to sit for the PMI-ACP (Agile Certified Practitioner) exam.
Contact Hours:
21 Agile education hours (for certificate) offered from experienced PMI-ACP certified instructors. Includes 10 "Live Online" hours and additional asynchronous time online. To qualify for a certificate students must attend classes and successfully complete assignments.
Location:
The "Live Online" course meets virtually.
The course is provided by the UAB Collat School of Business,
710 13th St. S.
Birmingham, AL 35294
Required fields are indicated by .